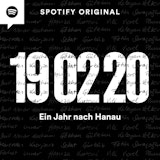 A Spotify Original Podcast and Grimme Online Award winner.
On February 19th in 2020, a man shot nine young people out of racist motives in the German city of Hanau. It is the most fatal attack in a series of right-extremist terrorist acts shattering Germany over the past few years. How could this happen, again?
In this six-part documentary podcast, journalist Sham Jaff and reporter Alena Jabarine look back at the night of the attack, talk to survivors and the victims' families, and work through the investigation file, to understand what really happened and how it affected the younger generation in Hanau in beyond.