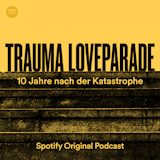 A Spotify Original Podcast
On July 24th, 2010, 21 people die at the most famous techno party on earth. The Loveparade, established in the late eighties as a celebration of life, turns into one of the biggest catastrophes in German post-war history. Ten years later, the desaster still resonates.
For "Trauma Loveparade" culture journalist Julian Brimmers embarks on a quest for answers. Throughout seven episodes, he explores what happended on that fatal day in Duisburg – and why the past ten years have been so painful for everyone affected.