Spotify
FOMO
A daily news update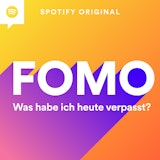 A Spotify Original Podcast
FOMO - Was habe ich heute verpasst? is Spotify's first daily news show in the German-speaking market. Every day, show hosts Yasmin Polat, Dena Zarrin, and Teresa Guggenberger go through their feeds and chat groups so you don't have to.
New episodes are released Monday through Saturday, reflecting the diversity topics in our timelines and (digital) conversations: from politics to pop, from celebrity news to the cultural conversations that shape our time.
The show is featured in the Daily Drive playlist, adding a younger, more digital-minded, pop-cultural perspective to the daily news offering.