Spotify
Allo Leute
Nura's guidance podcast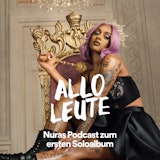 A Spotify campaign turned artist podcast.
"The artist is becoming the content". Allo Leute is a paramount example of this new philosophy. In her very own guidance podcast, German rapper and activist Nura creates a new channel to communicate with her fans: she becomes their friend, counselor and helping hand.
In each episode, Nura chooses a topic and invites a well-known guest from the music world who functions as an expert on the topic – their talking points range from identity to love interest, from hate-speech to fetish, from anxiety to jealousy. The fans can send their own problems, their questions and their stories regarding via voice message to the podcast's very own number.
With musicians it usually works the other way around. But in this interactive audio format, Nura becomes the listener and the listener becomes the sharing person. The first season features the artists King Khalil, Alli Neumann, Jalil, Remoe, Frauenarzt, Blokkmonsta, Frieder und Louis.